This Micro-Helicopter rotors dual 3-way is incredibly stable thanks to its built-in gyroscope. Its easy and precise steering while the partiulièrement intended for beginners. The Micro Spark is robust and lightweight thanks to its flanks chassis beam and aluminum supports. Modern design with flashing light on the front of the cabin.
Reloading of the helicopter by the issuer or by a computer via the USB cable. For indoor use.
Available in 3 colors: yellow, blue or red.

compatibility :
* All devices:
- Apple: iPhone, iPad
- Android
Application for free download on the App Store or Android MARKET

Two flight modes :
- Conventional stick
- MOVE MOTION: tilt of the screen (system accelerometer Smartphone)

dimensions :
Length: 220 mm
Rotor diameter: 190 mm
Weight: 38 g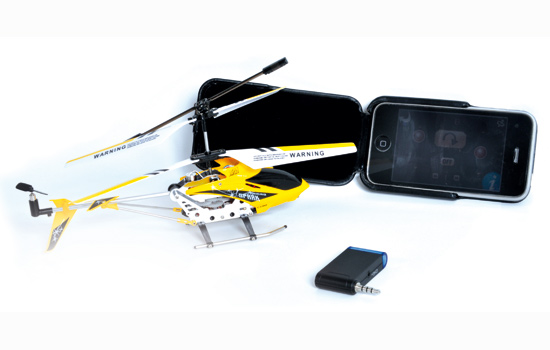 On order to supplier, usually ships within 7 to 14 days.
For more information, please visit this products webpage.
This product was added to our catalog on Wednesday 30 November, 2011.
e-modelisme.com est notre boutique en ligne de modélisme depuis 2005. Achetez ici vos modèles réduits est une garantie de proximité, et de services de modéliste pratiquant.