ESC 80A -HV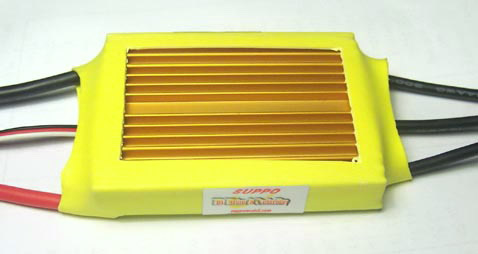 Features:
Constant current 80A Max 100A <60s
High Voltage
Low resistant 0.00125 ohms;
Dynamic braking
BEC: OPTO
Auto shut down when lose signal
Slow down at 3.0V per cell Lipo, Cut-off at 2.9V per cell Lipo 0.8V Nimh
80A Brushless speed controller Specification
Cons


-Current

Max


Current

BEC

Input

TIMING

PWM

80A-HV-10S

80A

100A

OPTO

16-30NIMH

~6-10LIPO

Programmable

- 1/7/15/30

Programmable

- 8/16K
| | |
| --- | --- |
| Weight | Size |
| | 77X36X8 |
| | 77X36X8 |
User programming options:
Battery Setting

Throttle Range

Brake Setting 4 options:

Direction and Cutoff Type

Timing Mode Setting: 1º /7º /15º/30º

PWM Setting: 8K/16K
Important Note: this ESC is Opto, without BEC supplying power to your Receiver, you need extra power source for your receiver. You can use a UBEC, a voltage regulator, or extra batteries as the power source for your receiver. If you hear the music tone repeat again and again for more than 3 times, you may need to check your power source to the receiver.
Good news, this product is in stock with qty 1
This product was added to our catalog on Monday 31 December, 2007.
| | | |
| --- | --- | --- |
| | Customers who bought this product also purchased | |
e-modelisme.com est notre boutique en ligne de modélisme depuis 2005. Achetez ici vos modèles réduits est une garantie de proximité, et de services de modéliste pratiquant.